Free Synagogue of Flushing
"For mine house shall be called a house of prayer for all people" – Isaiah 56:7.
Friday, November 24th
Spend Shabbat with family and friends. Gather together and have an authentic "Shabbes" dinner filled with songs, blessings and good company! No regular Shabbat services. Looking forward to seeing everyone on December 1st for a very special presentation….
Friday, December 1st
On Saturday, October 27th, 2018, a white supremacist, further radicalized by the political climate at the time, walked into the Tree of Life Synagogue with four semi-automatic assault weapons, shouting "all Jews must die." He murdered eleven congregants, ranging in age from 54 to 97, as they prayed.
A TREE OF LIFE: THE PITTSBURGH SYNAGOGUE SHOOTING creates a deeply personal, trauma-informed portrait of the survivors, victims, and victims' family members of the Pittsburgh Synagogue attack, and brings into sharp focus the hate-based crisis that threatens our collective safety and the very social fabric of our society. As the first film to document the survivor's stories and the only documentary with this level of personal access to the survivors and families of the victims, viewers will experience first-hand how the lives of those directly affected have profoundly changed and how the Pittsburgh community and the congregations set out on a path towards healing.
Deadline: Thursday, November 30th by 7:30pm.
Registration Link: https://freesynagogue.shulcloud.com/event/Tree-of-life-Shabbat
Friday, December 8th
The FSF Annual Hanukkah Celebration will be an Israeli Shabbes­ Hanukkah dinner featuring all of the traditional favorites.  There will be dreidles and Hanukkah gelt for the kids and the kids at heart, a special "Board Game Area" for those who want to try to "beat" a clergyperson!  We will sing and of course, everyone is invited to bring their own Hanukkiah and we will supply the candles.  Let's "light-up" FSF! An abbreviated service will precede our gastronomically adventurous dinner.
$12.00 Members
$18.00 Non-Members
Deadline is: December 6th by 6:00pm.
Registration Link: https://freesynagogue.shulcloud.com/event/Hanukkah-family-celebration
Friday, December 22nd
We want our staff and professionals to get some rest and relaxation as they prepare for 2024, so we encourage you to make an authentic "Shabbes" dinner complete with family, friends, food and festivity. See everyone back at FSF on Friday, December 29th.
Friday, December 29th
Join Cantor Alan J Brava and Maestro Brian Drutman as they help us get ready for 2024 through songs, stories and champagne! Make yourself feel young again. Everyone will be "carded"!
Deadline: Thursday, December 28th by 7:30pm.
Registration Link: https://freesynagogue.shulcloud.com/event/Kabbalat-Shabbat
The Flushing Food Collaborative meets at the Free Synagogue of Flushing every Thursday, as early as 8:00am to begin setting up what will be a 7 hour volunteer initiative.
Tables in our parking lot to sort through the produce; young MinKwon Center 민권센터 teen volunteers and their staff registering those citizens who are on local lists of "food insecure" families; our own FSF professional staff opening the synagogue campus to allow this project to become a needed community stop-gap every Thursday when food is distributed at 1:00pm.
Cantor Alan J Brava
Executive Director
I joined the Free Synagogue of Flushing's professional staff in May of 2014. I have served Jewish communities in the Boston and New York area for the past 40 years as an Educator, Youth Director, Camp Director, Hazzan, Educational Director, and University Administrator and once again now as the Free Synagogue's Executive Director and Hazzan. I received my Ordination as a Hazzan from the Hebrew Union College-School of Sacred Music-Jewish Institute of Religion in New York City in 1982.
As Executive Director I bear direct responsibility for all operational aspects of our synagogue. The Executive Director must serve as a collaborative resource to assure a consistent and intense focus on the needs of our members.
At a tactical level, the Executive Director hires and supervises all administrative staff, administers all financial activities of the Congregation, coordinates all programming except those programs overseen by other members of the Senior Staff, reviews and approves all member-directed communications and non-member marketing, plays an integral role in fundraising and development, and oversees all aspects of our physical facilities (including maintenance, repair and new construction) and technology.
It is at the strategic level, however, that the Executive Director must truly excel. Membership recruitment and retention are the lifeblood of our congregation, and the Executive Director is often the first public face, in collaboration with the rabbi, to potential members, financially distressed or disgruntled members, and the external community. The Executive Director attends the monthly meetings of our Board and is expected to be an active participant in their policy discussions and strategic planning; the same is true with respect to the weekly Staff meetings and the weekly meeting with the Rabbi and the Board President.
With the cooperation and teamwork of the other staff and the Executive Committee and Board, many of these duties and responsibilities can and should be shared.
The goal is to create members who feel like "stock holders" of FSF. My successes are yours and similarly, your successes are mine. Together we share in all that transpires at our synagogue.
Personally, for me it is an honor to serve this congregation. To be part of a long rich history that has reached over 104 years of serving the Jewish community is both exciting and awe-inspiring.
I have an open-door policy. My office is a place to come visit, have a meeting, share a discussion and a cup of coffee and get to know each other and each other's needs and desires.
The future is bright. I believe in miracles. Each and every day that we awake and get out of bed we thank God for our lives and for that basic fact that our bodies function to allow us to do His work.
I invite ALL of you to join with me, our clergy, and the lay leadership to rebuild our synagogue financially, spiritually and most importantly, the rebuilding of relationships so that we all can go from strength to strength.
Souksavat Soukhaseum
Director of Community Affairs
Souksavat "Souks" Soukhaseum, originally from Laos, began his service to the Free Synagogue of Flushing in 2014. Coming from a background in finance and hospitality, Souks serves as our historian, archivist and as the Director of Community Affairs keeping our synagogue relevant within our community and beyond.
As we celebrate 100 years of serving the Jewish community of Queens, Souks is archiving our rich and storied history for future generations to learn of the contributions and significance of this landmark institution.
Always welcoming to members and guests, Souks will take you on a historical journey through our beautiful stained glass sanctuary and bring our 100 years to life.
Souks was selected as one of the New York Jewish Week's 36 to Watch (formerly 36 Under 36). Click here to read his interview
Ian Benson
President
Stuart Geltman
Vice President
Naomi Lewis
Treasurer
Paul Furedi
Secretary
Todd Goldman
Board Member
Marco Hurtares
Board Member
Adrienne Kivelson
Board Member
Saturday Torah Study
Torah Service/Torah Study/Luncheon is at 10:30 am once a month – check website for dates.
360° view of our sanctuary
Past Events and FSF Highlights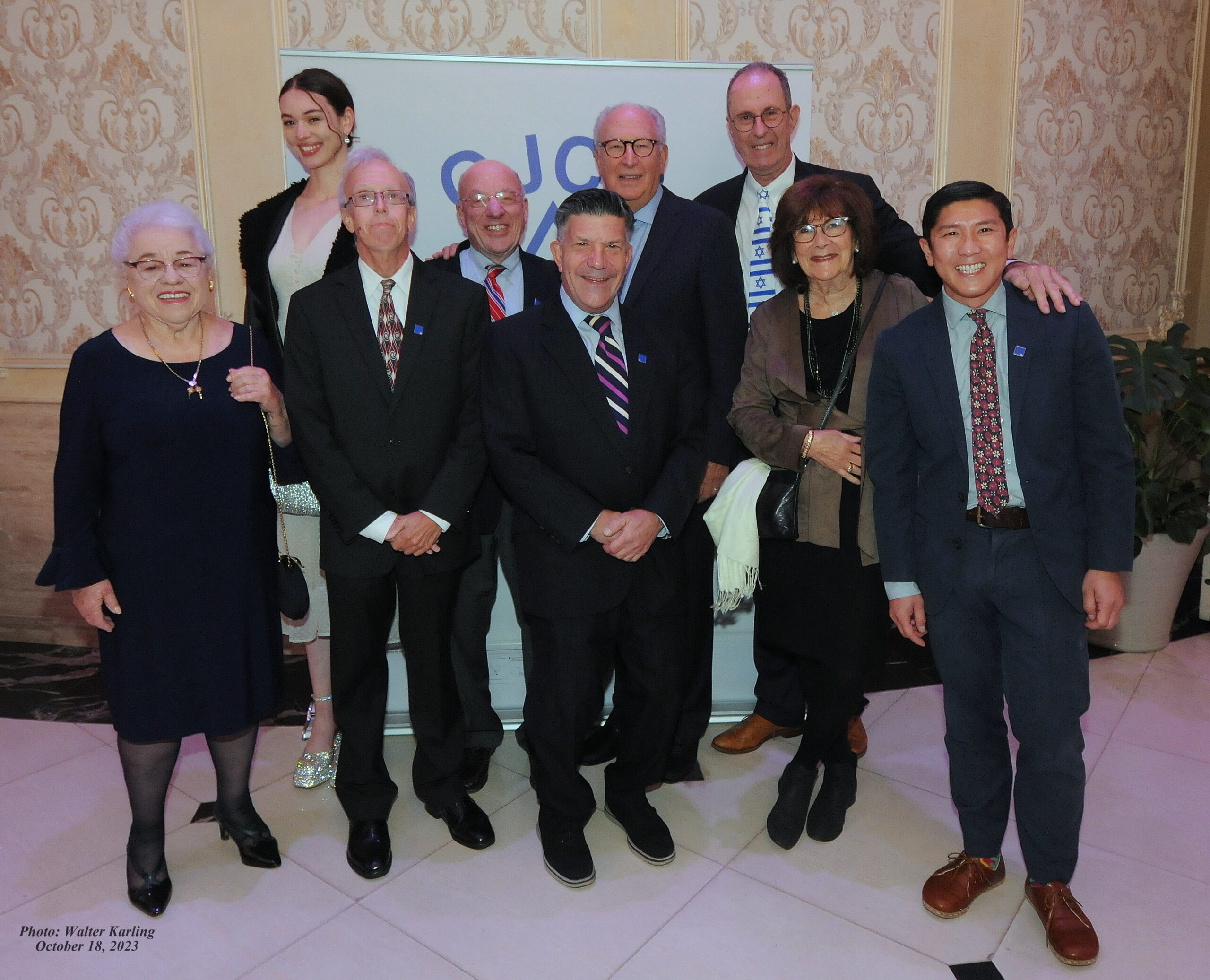 Members of the Free Synagogue of Flushing and its professional staff, attended Queens Jewish Community Council's 54th annual Gala on Wednesday, October 18th honoring its outgoing President, Michael Nussbaum.
Joining us were Ian Benson, Roni Spitz Benson, Adrienne Kivelson, Brian Drutman, Hannah Greenberg, Souks So and Lance Egelberg.
Photo Credit by: Walter Karling.
Click on the pictures below to enlarge
Souks Soukhaseum, the director of community affairs at the Free Synagogue of Flushing, was selected as one of the New York Jewish Week's 36 to Watch (formerly 36 Under 36).
 This distinction honors leaders, entrepreneurs and changemakers who are making a difference in New York's Jewish community. During the pandemic, Souks' outreach to local immigrant communities included a wide range of COVID-related services. Originally from Laos, Soukhaseum lives in Flushing, Queens.
April 25, 2022 Event at FSF: "A discussion between Jews and Asian Americans on combating hate"
An event hosted by the Queens Jewish Community Council, Stand With Us and the Jewish Community Relations Council focused on recent hate crimes directed at Jewish and Asian Americans.
Julia Gris, Rabbi of Progressive Jewish Congregation of Odessa, shares her amazing story.
Rabbi Julia Gris, Reform Rabbi of Shirat ha-yam in Odessa, Ukraine has escaped to Poland with over 40 of her congregants. Please consider donating here: All donations to the Free Synagogue of Flushing will be sent directly to Rabbi Julia Griss currently in Poland to help her continue her work in resettling refugees from the Ukraine.
General Contact Information
Upcoming Events & Additional Links
Click on the pictures below to enlarge the flyer/s